My first attempt at Mt. Whitney kicked my butt and it has kept me coming back for more. So when I wasn't awarded permits from the lottery system in April, I decided to hike to the summit one of the longways. The whole 72 miles, West to East across the Sierra Nevada Mountains, that make up the High Sierra Trail.
The High Sierra Trail also ended up being my first thru-hike, my longest backpacking trip by miles and by days, and honestly the hardest hike that I have ever done both physically and mentally. After 6.5 days on the trail, standing on top of Whitney with no altitude sickness, knowing I made it across the mountain range with a heavy pack (45lbs) was worth every tear and blister along the way.
The trail starts in the West from Crescent Meadows in the Sequoia National Park and runs to the East across the mountain range to the Mt. Whitney summit and down to Whitney Portal. The High Sierra Trail goes over the Great Western Divide, down to the Big Arroyo and Kern River Valley, then up again to where it connects to the John Muir Trail and the Pacific Crest Trail, and finally finishing on Mt. Whitney.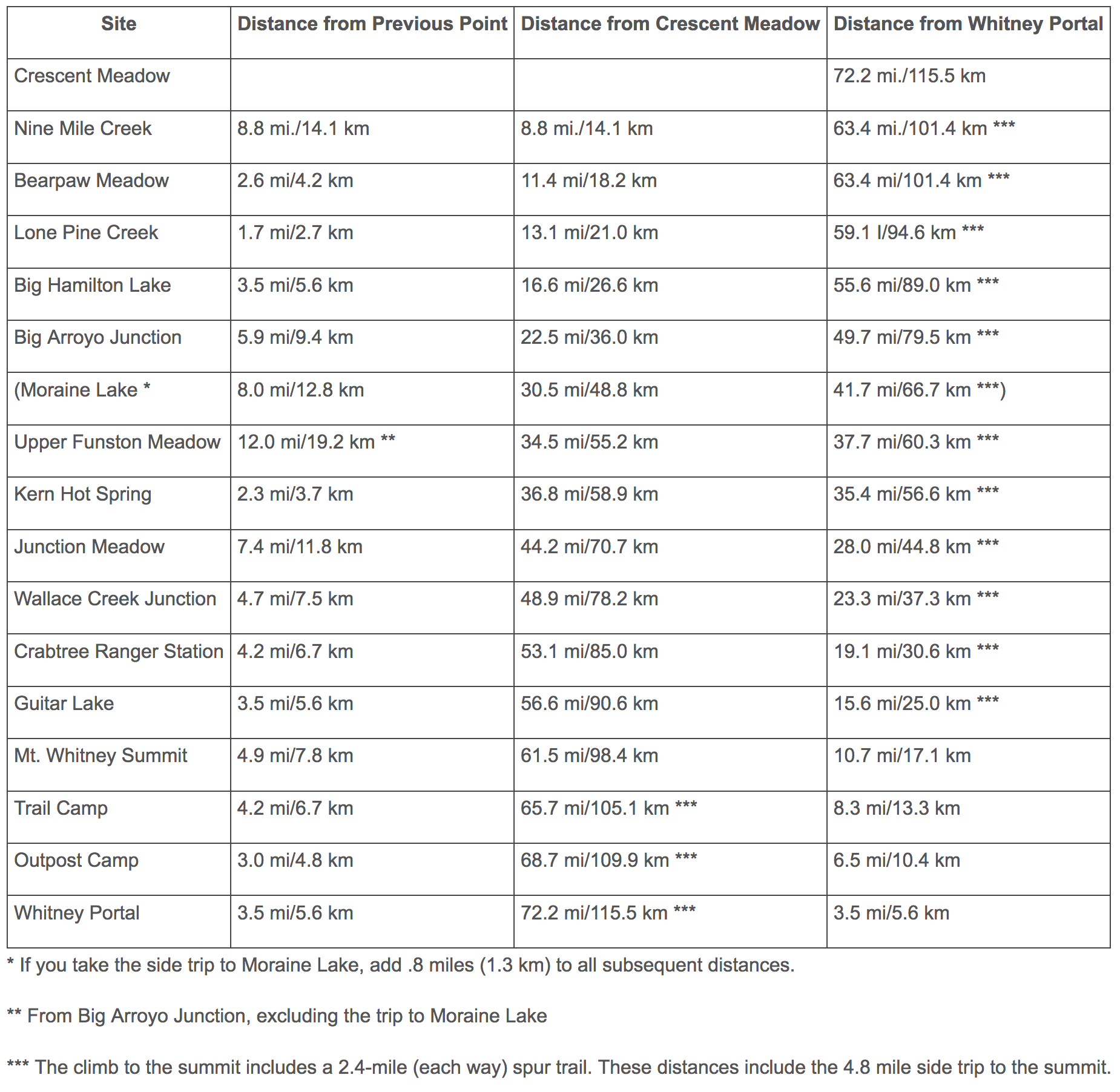 Distance: 72.2 miles point to point
Time: 6 to 9 days
Difficulty: Strenuous
Elevation Gain: around 19,000 ft
Permits Required: Yes, year round.
Bear Canisters Required: Yes in the spring and summer months until Nov 1.
Dogs: No
Re-Supply Available: No
Pack Animals Allowed: Yes
Now the ins and outs of planning the trail and the day by day breakdown of my itinerary:
Day 1: Crescent Meadows to Panther Creek (half day)
Day 2: Panther Creek to Hamilton Lake
Day 3: Hamilton Lake to Big Arroyo Junction
Day 4: Big Arroyo Junction to Kern Hot Spring
Day 5: Kern Hot Spring to Junction Meadow
Day 6: Junction Meadow to Guitar Lake
Day 7: Guitar Lake to Mt.Whitney Summit to Whitney Portal
Permits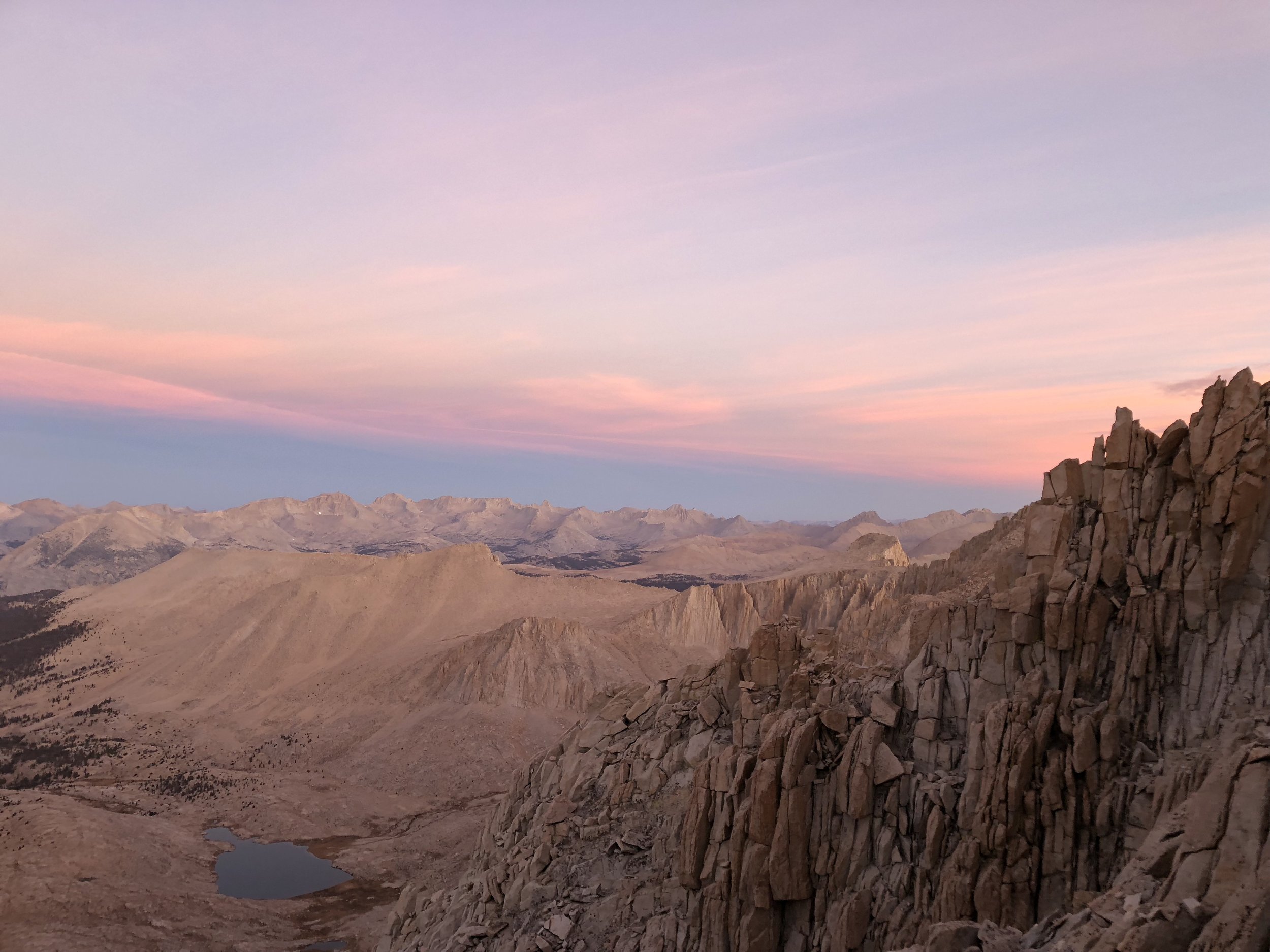 If you're going West to East, pick up permits from the Lodgepole Visitors Center in the Sequoia National Park. If you're going East to West, get your permits from the Mt. Whitney Visitors Center in Lone Pine. If you start from the West, you don't need a permit to finish on Mt. Whitney.
There are two ways to get permits for this trail, inside the quota season and outside of the quota season.
During the quota season –
The quota season runs during the summer months usually from May/June through the middle of September. The quota season is designed to limit how many backpackers can enter the wilderness on any given day during the high season (summer). This is to help protect the wilderness from too many visitors at the same time.
To hike the trail during the quota season, get your permit on recreation.gov. Look for where it says "High Sierra Trail." Permits open up at 7am Pacific Time 6 months in advance of when you want to start hiking. Now permits do go quickly. I recommend being up and on the website and refresh right before 7am. If you don't get permits on the first day, just keep trying and keep clicking until it goes through. It's a challenge, but this is how it's done.
Alternatively, if you don't get permits the first way, I recommend checking for last minute cancelations. Sometimes you'll get a cancelation well in advance, other times it might be a few weeks before you want to go. If you really want to go, check once or twice per day for any cancelations. They always happen! And you will be able to get a permit this way.
If you're unsuccessful at all of those options, you can also aim to get a walk up permit the day before or the day of your trip.
Outside of the quota season –
There is no quota to backpack the wilderness for the fall, winter and spring months. But permits are still required! So you still need to go to the wilderness office before your trip and get a permit but you can have a group of 2 or 12 join you. I went in late September when the weather is cooler, especially at night, but manageable.
Weather
May and June
There will still be snow on the ground, especially at higher elevations. Some of the crossings and passes will be very difficult and dangerous during these months (and possibly into early July).
July and August
The best conditions! Typically no snow on the ground, nights won't be cold, water readily available almost everywhere. But there are more bugs and some of the water crossings will be difficult and fast moving. Days will be warm, sometimes humid. Afternoon thunderstorms are common.
September
No snow on the ground, fewer bugs, easier water crossings but the nights will be cooler.
October
Days are mild, the nights will be cold, some of the water sources may be dried up but the crossings will be easier! There is also a possibility of snowstorms.
November through April
Full winter conditions.
Transportation
Now, this is probably the hardest part of planning the hike since the trail runs West to East (or vice versa). There are a couple of options, but some of them are off-limits outside of the quota season.
I prefer to have my car waiting for me at the end of a hike so I'm not relying on others for transportation at the end when I'm exhausted. I left my car at Whitney Portal and hired the Eastern Sierra Shuttle Service to drive us from Whitney Portal/Lone Pine to the trailhead at Crescent Meadows in the Sequoia National Park. For a 12 person van, the Eastern Sierra Shuttle Service charged us $1,200. If you mail them your key, they will also drive your vehicle from the start of the trailhead to the end for roughly the same price.
There are other options!
Have someone drop you off at the start and pick you up at the end. Or…
If you go during the quota season, before or during Labor Day, there is a shuttle service that runs from Visalia to the park. You can have someone drop you off in Visalia, you can fly to Visalia, you can take buses or trains there. There are also buses that run from Lone Pine to Visalia.
Gear
My total pack weight was 45 lbs. That was with 2L of water, 8 days of food and winter gear in case it got chilly, which it did!